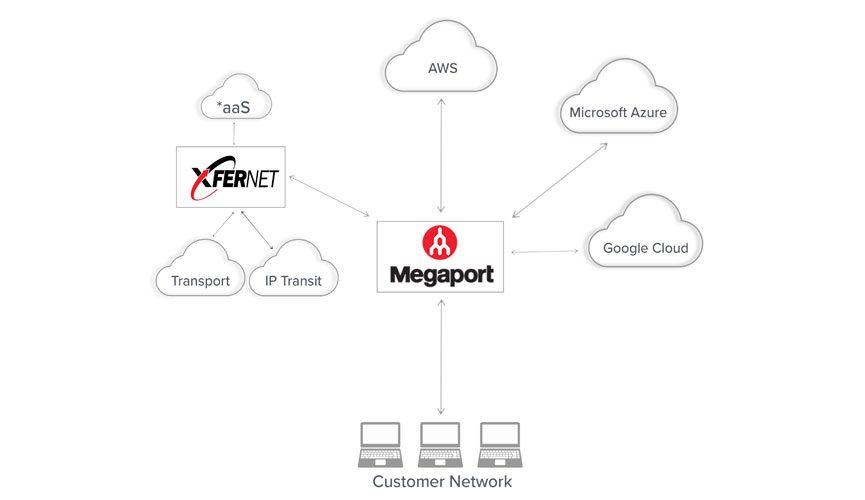 For Megaport customers looking for IP Transit connectivity, the ability to burst, and use on-demand without commitment, we are now offering a new service option. This new service extension allows us to offer customers the option to add our IP Transit service to their existing Megaport services.
TARGET:
All enterprises using hybrid or virtual environments via one or more of the major hyper-scale providers.
USE CASE:
A customer needs additional capacity and is currently a Megaport end user:
The customer is currently colocated in an Xfernet off-net facility. Megaport on net.
The customer wants connectivity with little to no-commit, the ability to burst, and short term use.
Xfernet uses Megaport to deliver IP Transit service to the end-user via a VXC between data centers.
Megaport VXC is used as a last-mile means to deliver Xfernet's network to the end-user.
End user now has a network that they can completely control the usage of even with diverse carriers.
Problems Solved:
In the typical situation, the customer contacts a carrier in the data center and commits to a port. The administrative and provisioning process can take on average 30 days or more to be on net.
The traditional sales process is very time consuming – quoting is not streamlined and turnaround time is long for responses, capacity verifications, sales engineering, etc…
With Megaport + Xfernet, customers sign up for an Xfernet circuit and then simply go into the Megaport portal, order a virtual cross-connect to Xfernet and be on net within the same day.
BENEFITS OF MEGAPORT + XFERNET
Build connections faster
Connecting to Xfernet's IP Transit service through the Megaport platform allows Network Managers to further expand on their Megaport services and do more with a single solution.
Procuring connectivity quickly through streamlined provisioning.
Transit service available within hours of the acceptance of Xfernet T&C and LOA with a streamlined provisioning and ordering process vs. traditional carrier services.
Pay only for bandwidth usage of IP Transit through Xfernet's Tier 2 Network.
Move data further
Transit on Xfernet's Tier 2 global IP backbone is designed to be highly scalable, fully customizable with unparalleled performance.
Be more agile
Megaport + Xfernet both offer on-demand services that allow customers to scale and add capacity as needed.
Xfernet offers pay-for-usage plans providing a flexible solution for the customer's business needs.
Simple and cost-effective process
Easily contact Xfernet for transit service through Megaport's Marketplace.
Lower fee for virtual cross-connects of a 10G port within the metro area vs. a higher Layer 1 cross connect fees within a single data center.
No hardware required.
Contact us today to learn more about how you can add IP Transit to your existing Megaport service.