Disruptions come in many forms, and for most, it's not a matter of if it will happen, but when. Be prepared now with Xfernet's ActiveBC Business Continuity solution.
Although no business is immune to the unexpected events that can impact and disrupt operations, those that are prepared will keep their competitive edge while others lag behind. Virtually every aspect of your business is vulnerable to disruption. Outages can result in the loss of productivity, loss of customers, and negative revenue impact and can have a long-lasting impact on the reputation of your business.
As the demand for continuous business operations increases, the need for shorter recovery times becomes even more critical. A single minute of downtime can prove costly. Staying functional during and after an outage requires a reliable system recovery solution.
Business Continuity by Xfernet
Xfernet's ActiveBC Business Continuity service is a fully managed, around-the-clock solution for application and IT continuity that focuses on the continuity of your service in the face of disaster, rather than trying to recover from a disaster after it's already happened. Our automation and cloud tools facilitate quick recovery time and improved server recovery reliability. Your users will never know a disaster has occurred.
Our flexible solutions support both cloud and traditional dedicated server and colocation-based environments. We can help put the right controls in place to combat risk while maintaining applications and data access. With Xfernet's Business Continuity Service, you'll gain greater resiliency and peace of mind.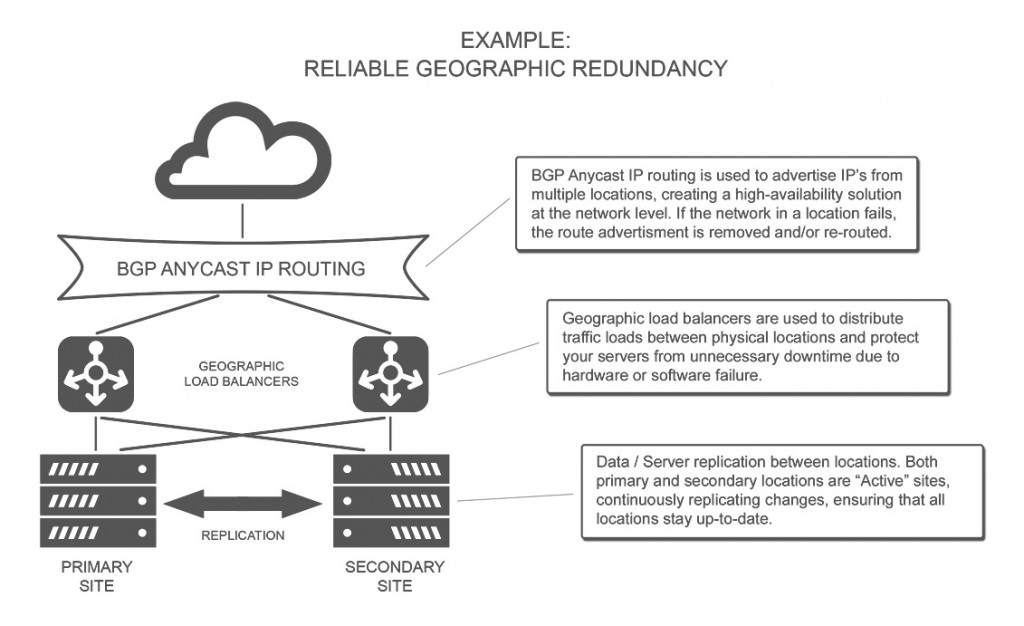 Whether you need help backing up important databases or architecting a complex replication solution across our data centers, we have the expertise, technologies, and services that your plan needs.
Replication, snapshots and network storage help eliminate single points of failure and provide a restoration path for mission-critical data. Global load balancing and geographic redundancy can mitigate the risk of downtime in the event of even the most catastrophic system failures.
We understand that BC/DR can be expensive, but experiencing downtime could end up costing you even more. We can offer you an experienced team of specialists that can help you choose the right resiliency solutions based on your risk tolerance, and ensure they are optimized to meet your recovery objectives and budget.
Let our business continuity specialists review your environment and propose a mix of resiliency tools that can help you achieve your recovery targets—all within your budget.
Have questions? Not sure what to choose?
Ask our solution specialists to craft a plan best for your business.
The Xfernet team of experts is onsite and online 24x7x365 so that we're here when you need us, whenever and wherever that may be.
(855) 933-7638 Sales
(800) 895-4526 Support