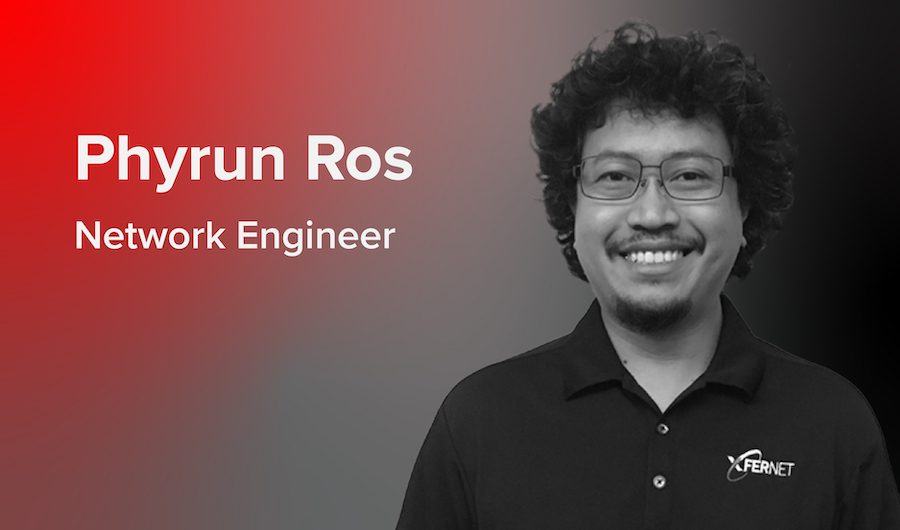 What does it take to be in your position at Xfernet?
To be a Network Engineer at Xfernet requires an understanding of how the internet works, and in particular how to best serve our clients' network needs.
Growing up I dreamt of becoming…
a paleontologist.
As a technologist I …
have to keep up with the constant changes and improvements in technology.
I got into the work I'm in now by …
accepting my brother-in-law's offer to work here.
What I do isn't just a job because …
I care about getting people internet access, so they can continue gaming, streaming videos, and facebooking.
I start my day by …
reading emails.
I'm inspired by …
The Universe.
I get really excited by …
Fry'sdays on a Wednesday.
My biggest professional accomplishment to date is …
passing the JNCIS-SP exam.
Something I don't leave the house without is my …
phone and wallet.
A project currently keeping me busy is …
cleaning the network cage. It perpetually stays messy by all the different projects we're constantly doing in there.
My absolute favorite food/meal is …
KONY pizza and beer.
When I'm not working, I like to …
Go to KONY's
To relax I…
Go to KONY's
One of the biggest perks of my job is …
It's pretty mellow when everything is working as it should.
I wish I had more time to …
Go to KONY's.
Something most people don't know about me is …
I'm a proficient writer.
In ten years, I will …
accumulate more Juniper certificates and possess a vast knowledge of networking.